Lather, Rinse, Repeat
...by that phrase, I mean let's have another Giveaway! I made a sweet little pendant from this piece of sterling silver, which I first roll printed with a pattern. And I am giving this pendant away!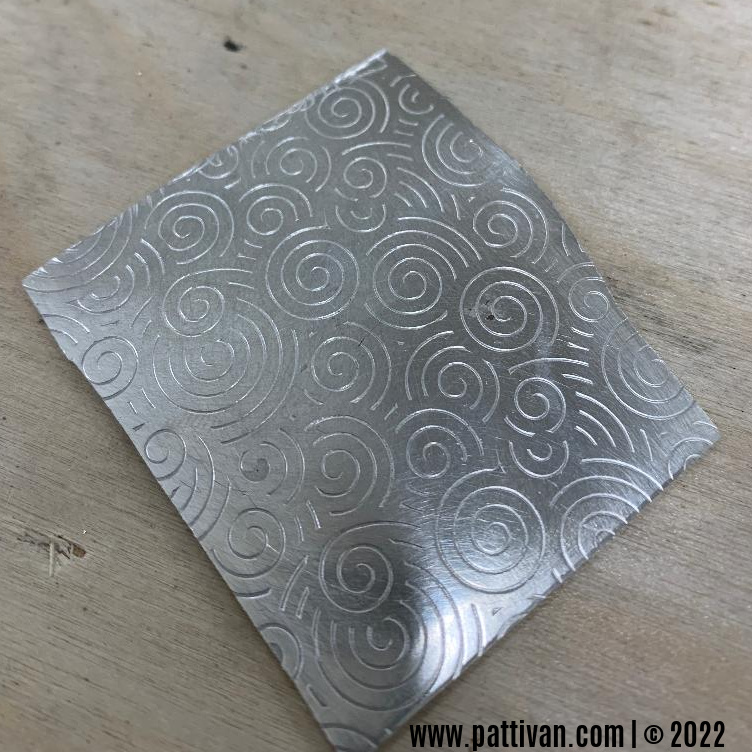 I mentioned in my last blog/giveaway that artisan lampwork glass was my very first "love" in the jewelry world. My love for this artform has never wavered! I took a quick class (OMG how many years ago???) on making glass beads - Kerry Bogert was the teacher (she is no longer in the jewelry biz). I was so naive -I had zero understanding of how the beads were made. I had been making jewelry for maybe only a year or so - NEVER HELD A TORCH! So, from this class, I learned about annealing beads. The glass is melted in a hot flame, wound on a rod to form the bead, and then slowly, slowly cooled in a kiln. Simply put,glass is a fragile product and this annealing process takes away some of the fragility.
Well, I did not even own a torch at that time, much less a kiln. So I decided that while I would continue my love for the art form (which I still do!) I would fully support all of these talented artists glass artists by buying THEIR beads!
Today's pendant features a glass cabochon, made by the artful hands of Mikelene Reusse (her shop can be found here). While I understand the process of making a lampwork BEAD, and rounding the molten glass around a mandrel, I have no idea how the flat-back cabochon is made! I have never seen it done. But I imagine it is 10 times more difficult than the making a bead! I mean - when you look at the cabochon below - the intricate "painting in glass" to the nearly perfect roundness of the cabochon itself - I will leave the making of this art form to the professionals! :)
Sidenote: Mikelene is also an extremely talented silversmith - I own several pairs of earrings made by her talented hands! (Her jewelry shop can be found here).
Mikelene used gorgeous colors to create this cabochon, and it features a flower in the center of the glass! She has appropriately titled this cabochon "Wild Orchid". The glass is transparent - when you hold it up to the light, or wear this beauty with a white top, the Wild Orchid pops, along with the lovely amber shades and pops of color in the backdrop. So pretty!
To make this necklace, I roll printed a pattern on sterling silver, and used a "shadow box" type setting with square wire along the outer edge. I cut a circle in the back of the pendant, to fully realize the transparency of the cabochon. The pendant is 2" long by 1 5/8" at its widest point, and it hangs from a beautiful, 18" sterling silver box chain.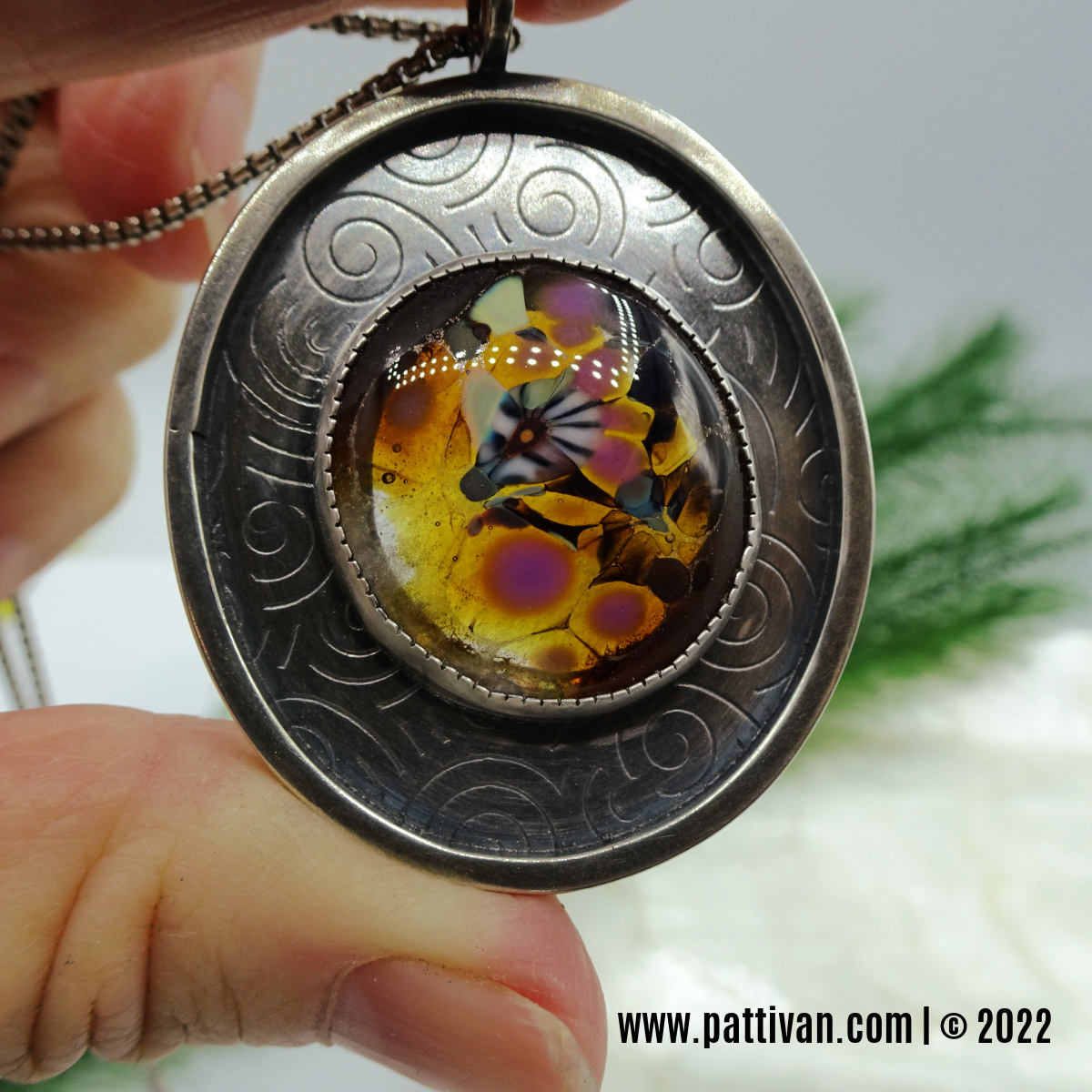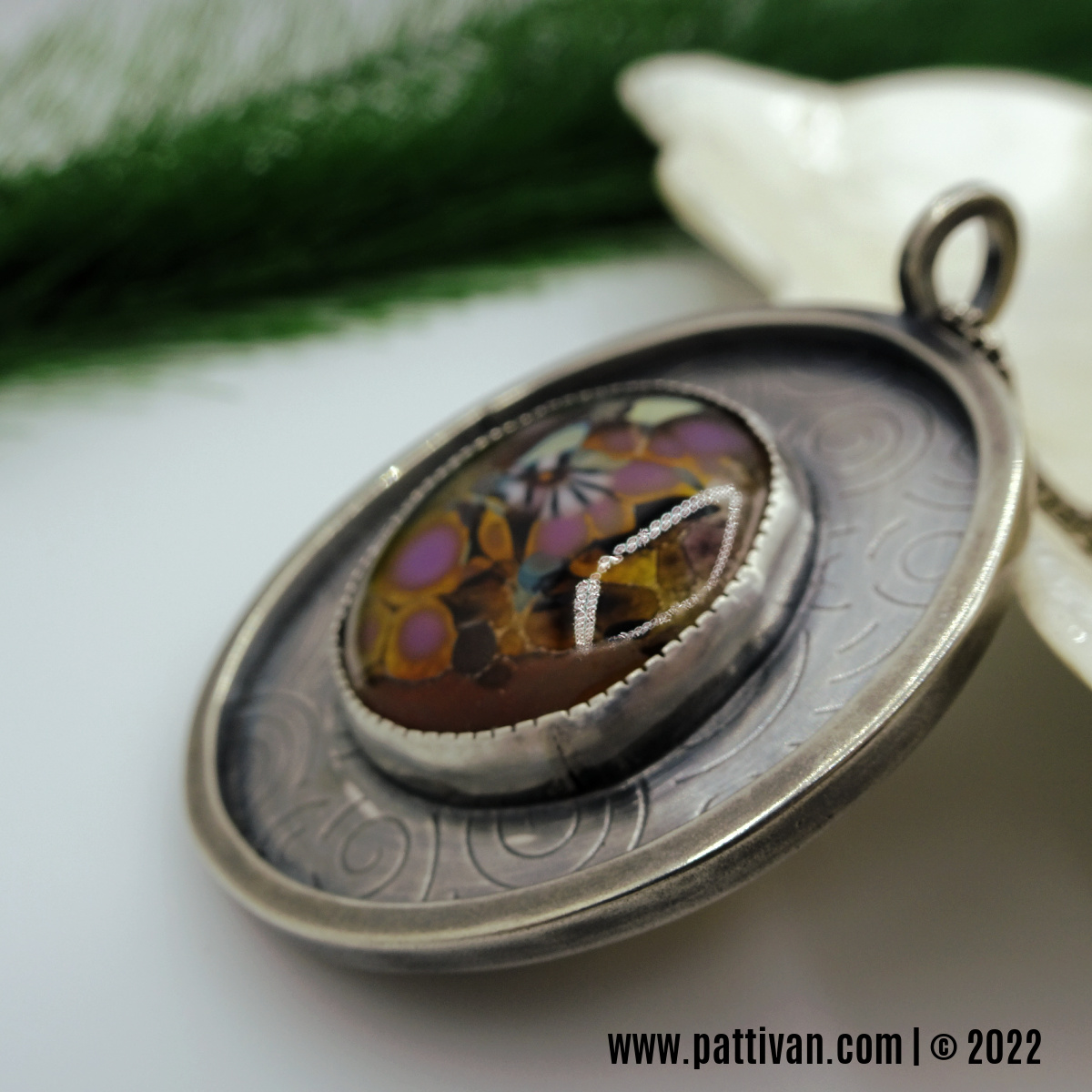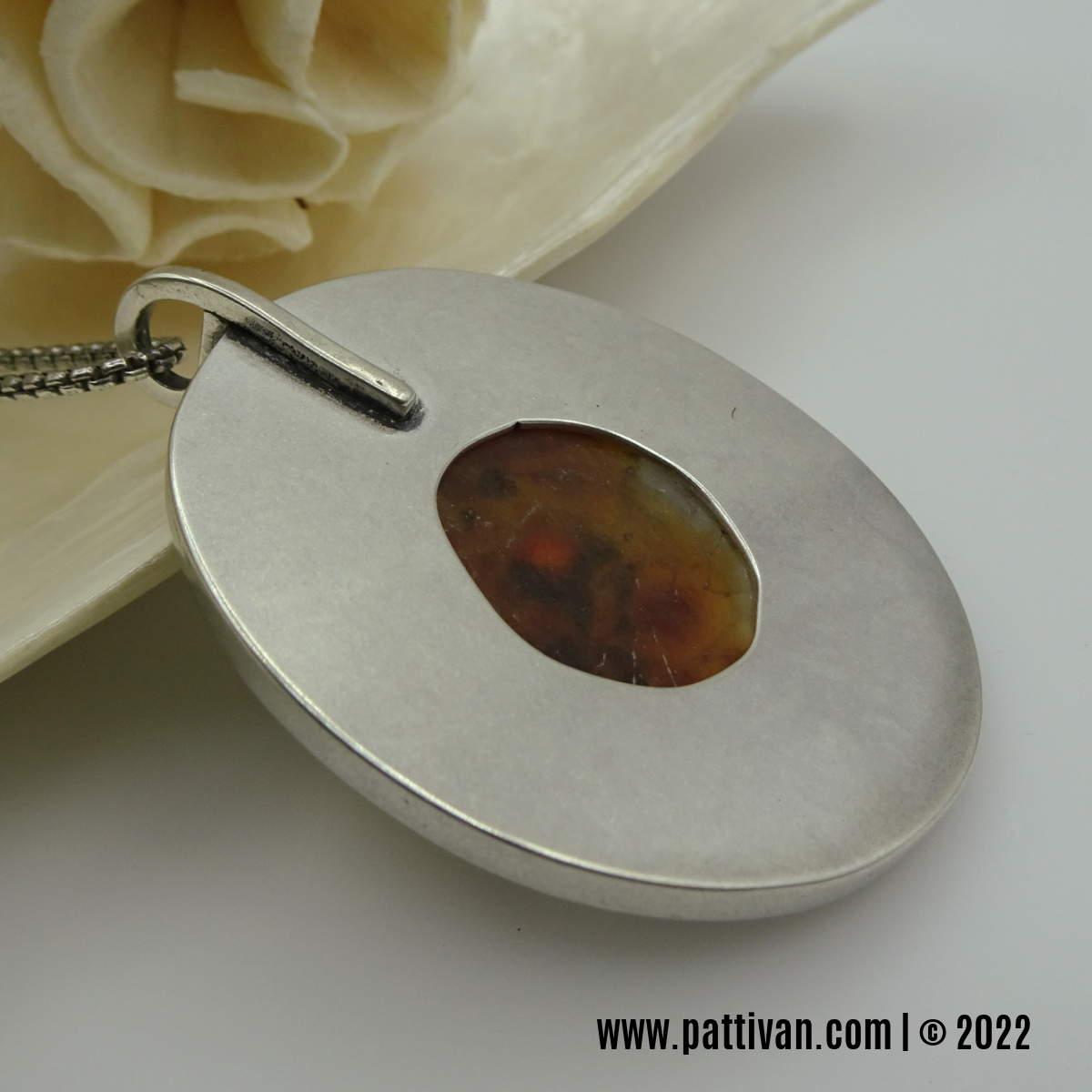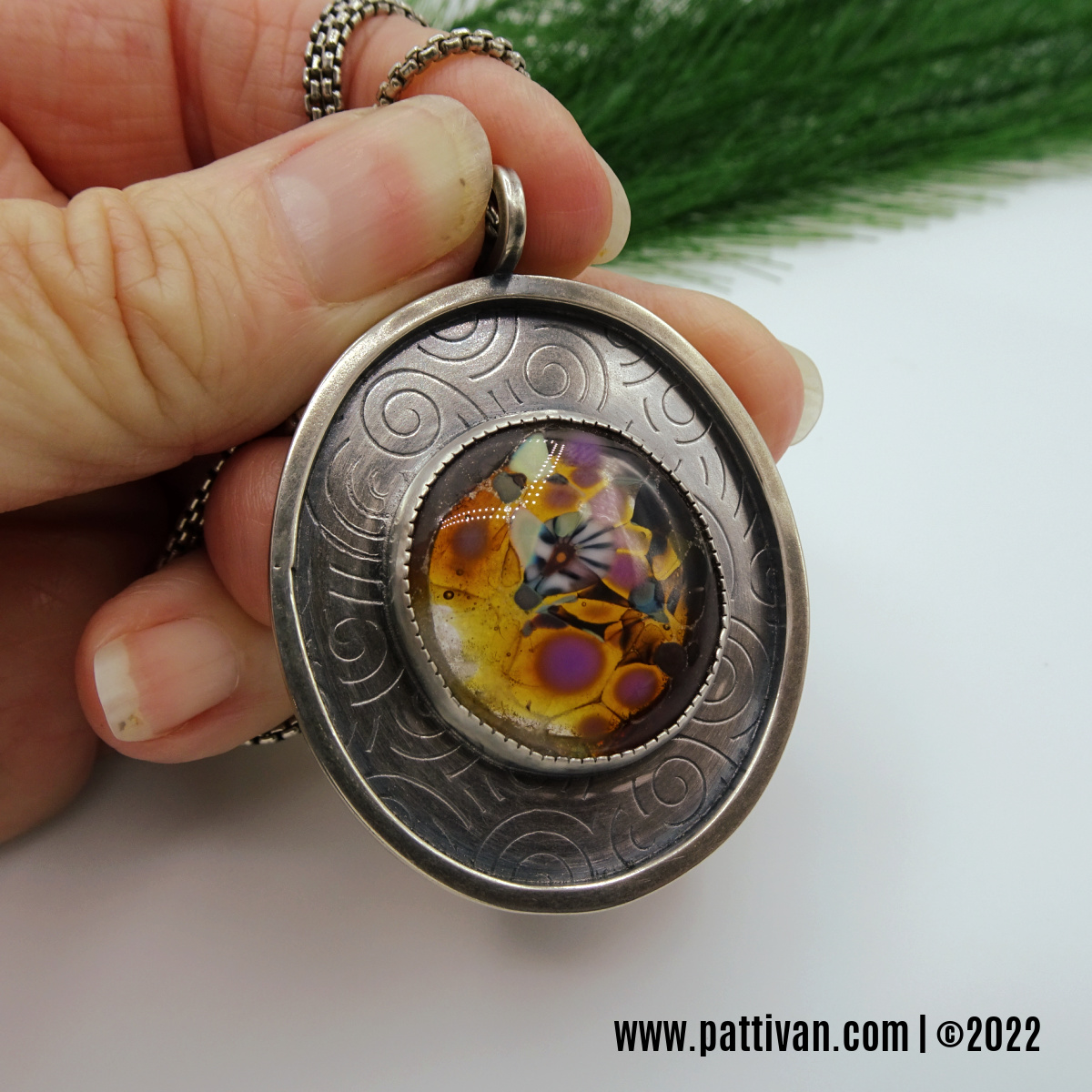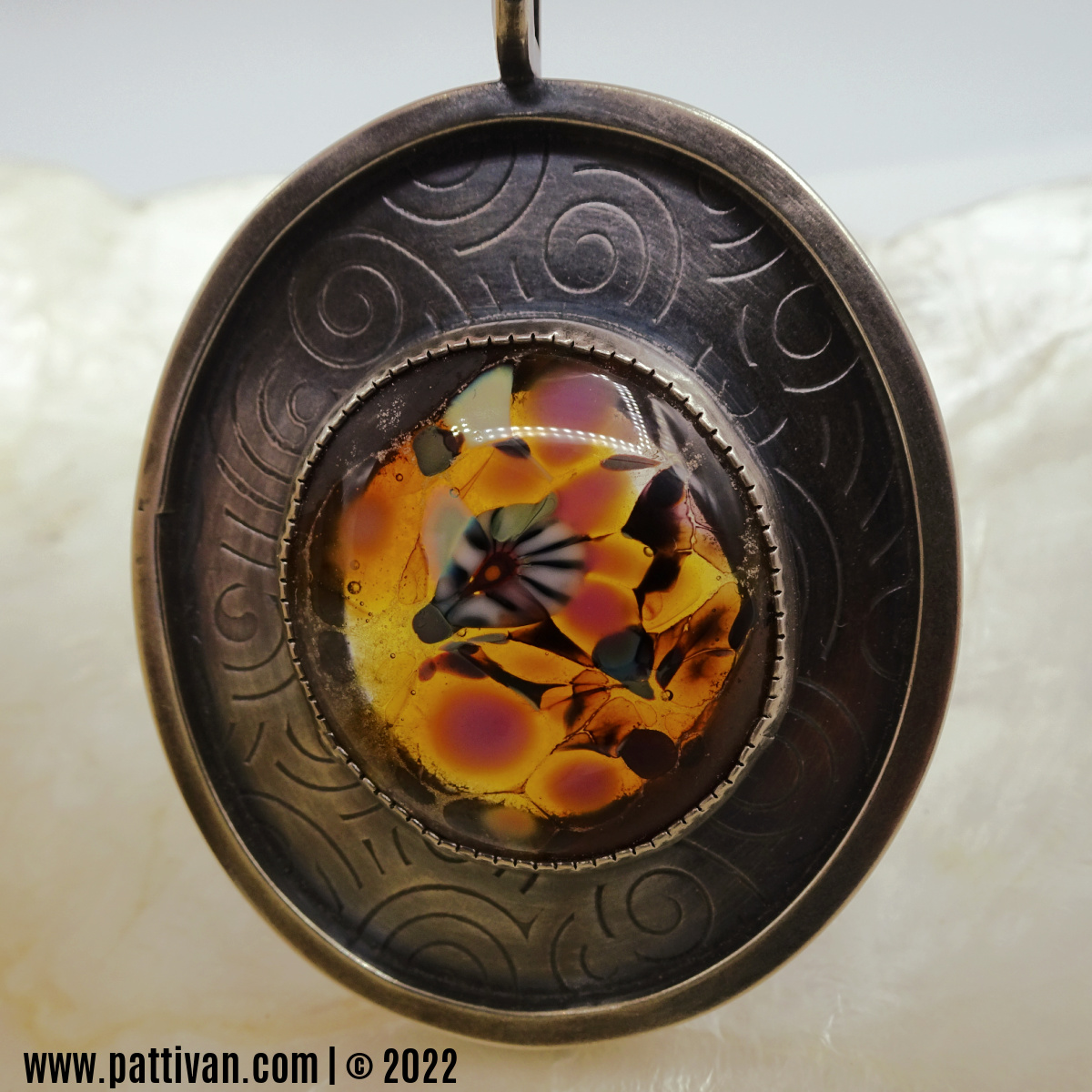 How to Enter to Win this Necklace!
Just leave a comment on this blog post OR my Facebook post that advertises this Giveaway. One entry is all you need - duplicates will not be "counted".
I will pick a winner in a few days!
Once again - thank you so much for stopping by!
XO
Patti