It's February...what happened to January?
SALE! Save 40% on Everything in my Shop!
Items already marked down - No Coupon Required and No Minimum!
NOTE: GIFT CERTIFICATES NOT INCLUDED IN THIS SALE!
While my days are literally dragging on, I am having a hard time watching the calendar flash on by so quickly! I looked high and low for inspiration the entire month of January. I am absolutely blessed with an amazing studio that I have stocked through the years with so many wonderful tools...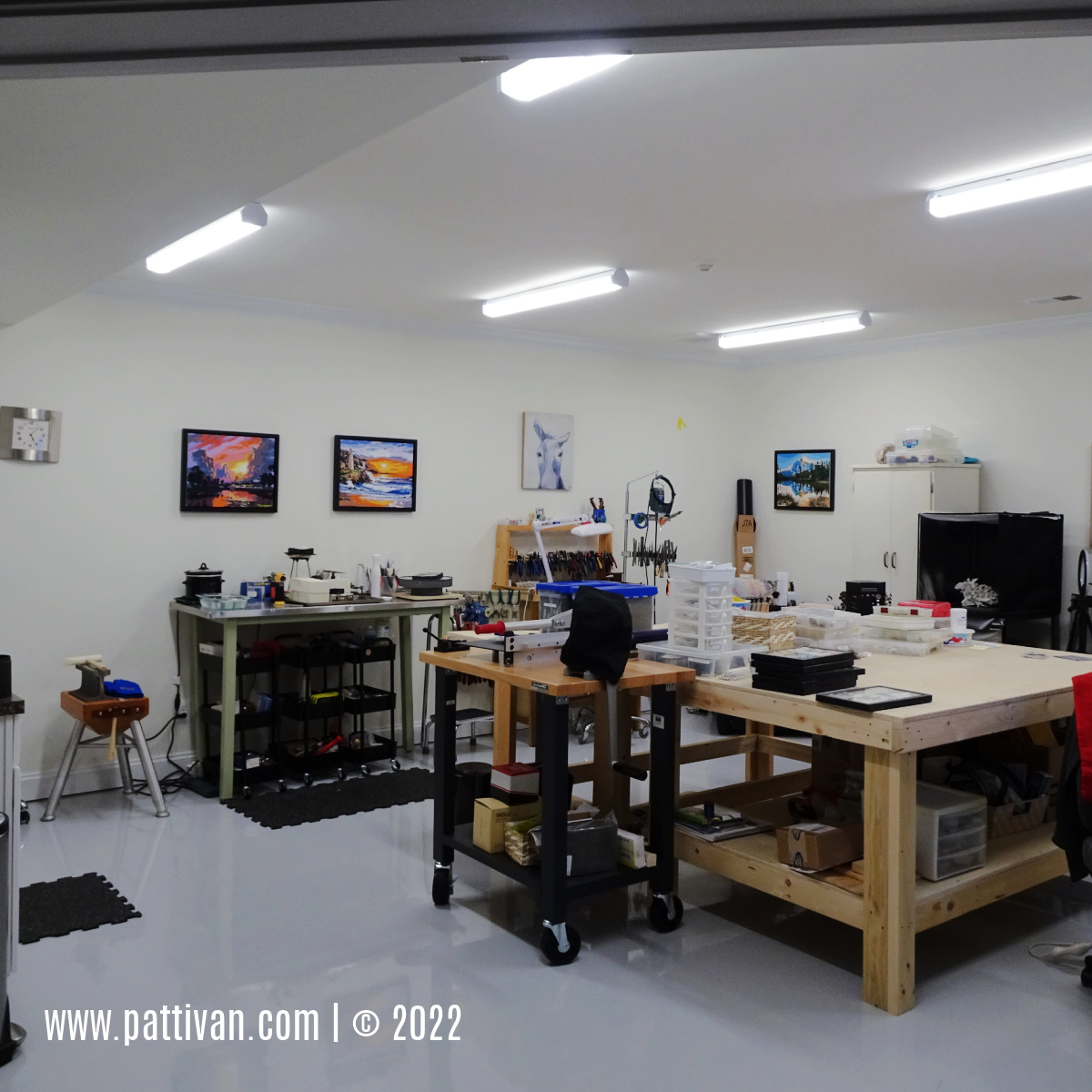 I tried everything to find my mojo - I would sit at my chair, and literally go through all my stones and cabochones. I looked at hundreds of photos of previous work; Pinterest...anything for inspiration. I tried to find an online class to take, but nothing even struck my fancy. I truly have never had a creative block that has dragged on so long. So, I decided to stop thinking about it, and I went onto my first love - cooking and baking. I have been at the stove since I was 10 years old (thats half a century people!!!) I tried several new recipes; baked loads of bread; even tried a few Keto-friendly recipes. By the way, I know how healthy it is to eat Keto/Paleo --- but....it's just not my favorite! Although I cook with lots of varieties of meat, very little of it hits my lips. And I can only eat so many vegetables before my taste buds BEG for something else! But, we keep trying!
Back to jewelry. I very recently purchased two pairs of earrings from Deryn Mentock (link here). Several years ago, I took an online class from Deryn and her jewelry is amazing. She posts previews on Instagram of her new jewerly days-to weeks in advance of her upcoming sales -- and once available, they sell quickly!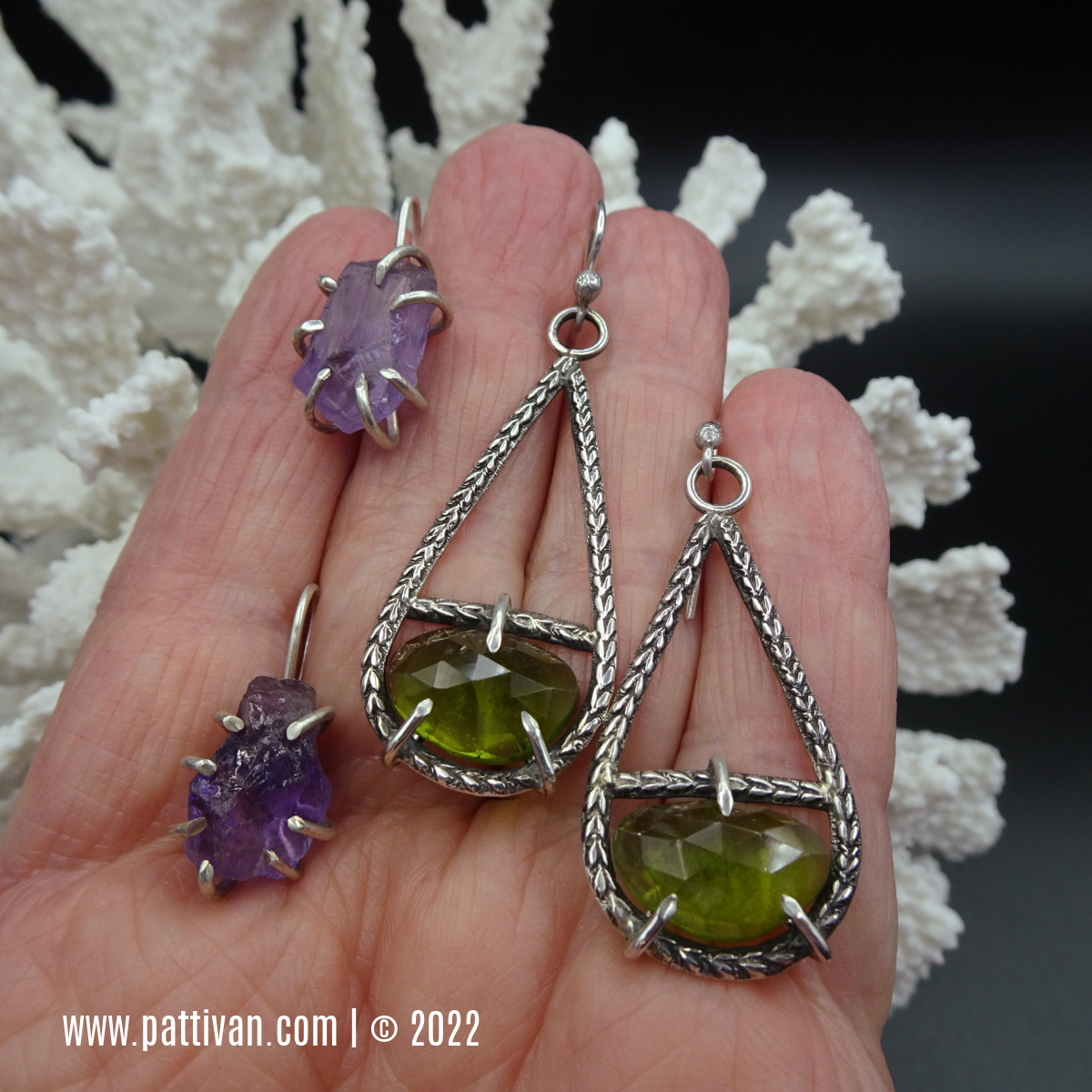 Aren't they stunning?! I love these prong settings - which allow the stone to reflect the light and are perfect for these gemstones! And then ... inspiration finally came! I happened to have a carved Labradorite gemstone, also procured through Deryn's shop....sometime in the past year or so.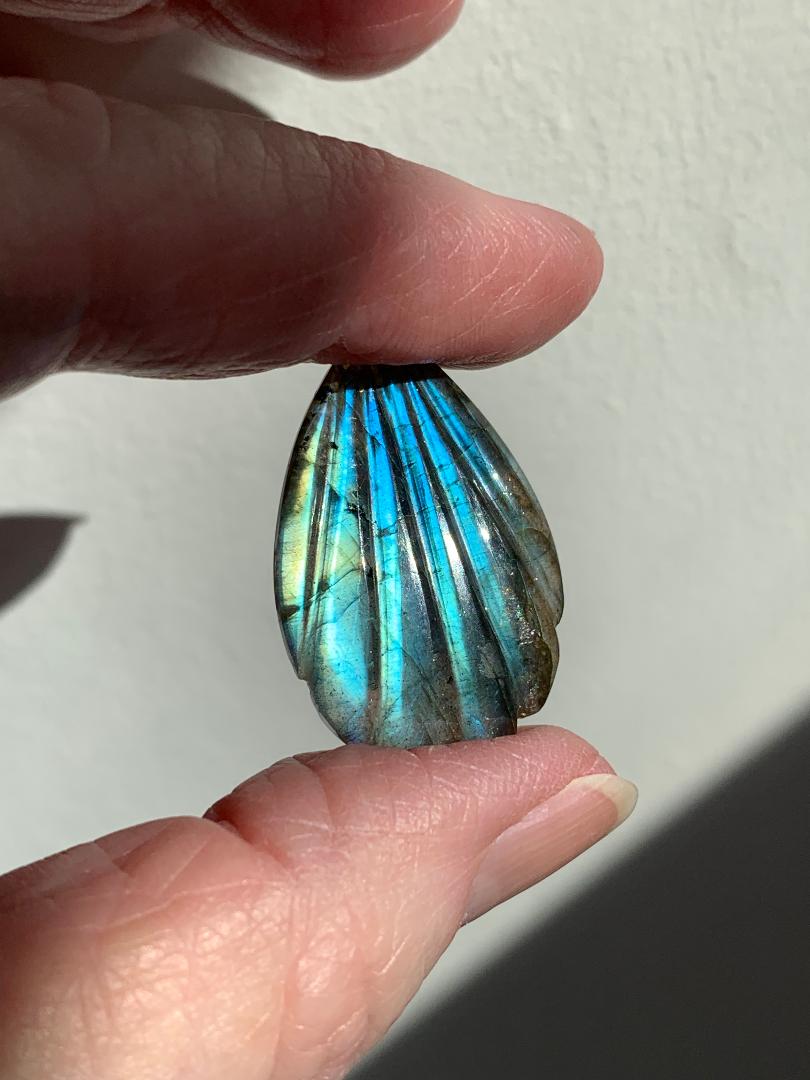 The so called "Labradorescense" is perfection and it deserved to have a setting that enhanced both the hand carving and the beautiful colors that eminate from within the stones itself. So, I crafted a "simple" prong setting (picture below is pre-polish).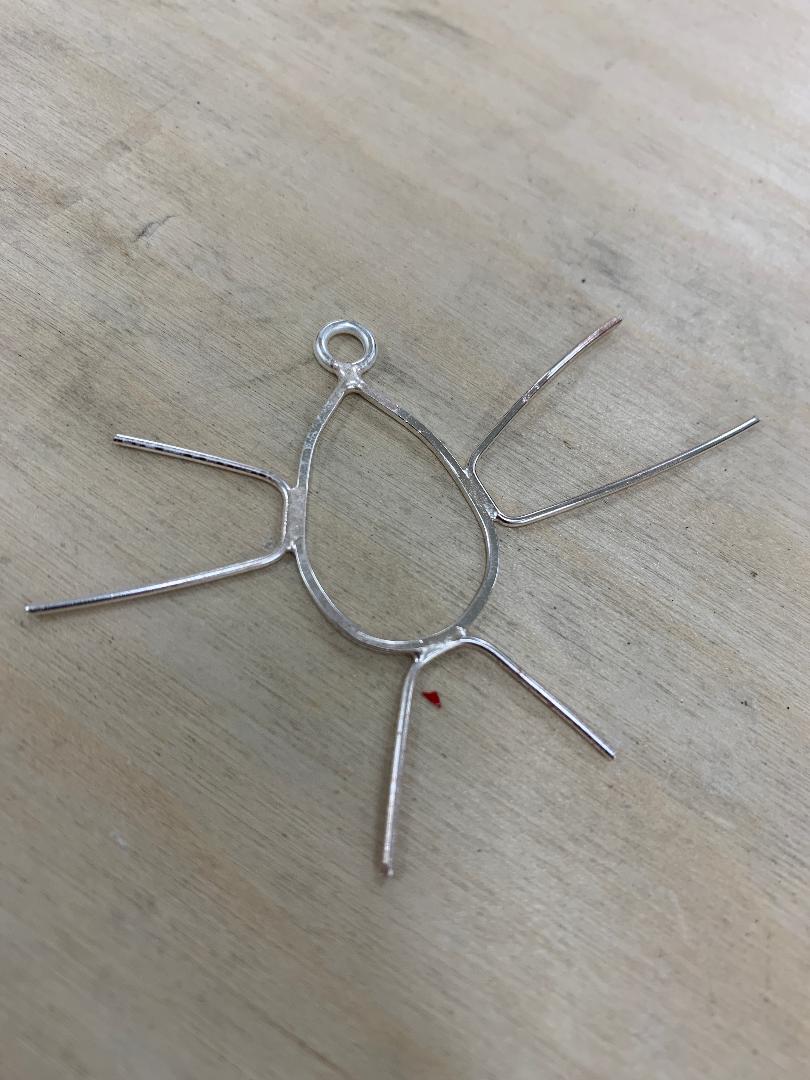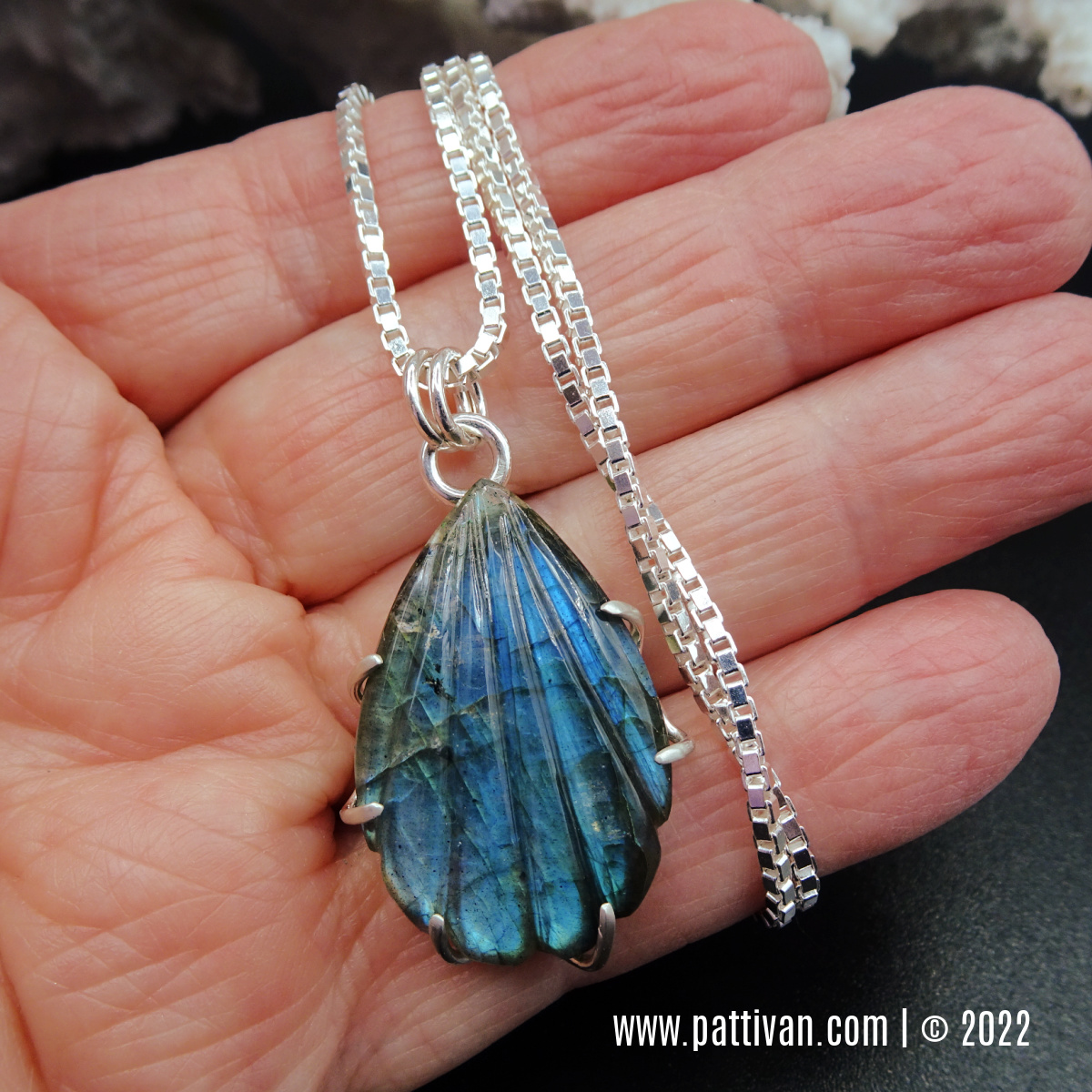 I think it turned out so pretty! It's available here. I recently added an Carved Amethyst necklace to my shop (link here) and intentionally kept the setting very simple. These are hand carved gemstones - I think the translucency of the gemstone adds to the beauty of that hand carving.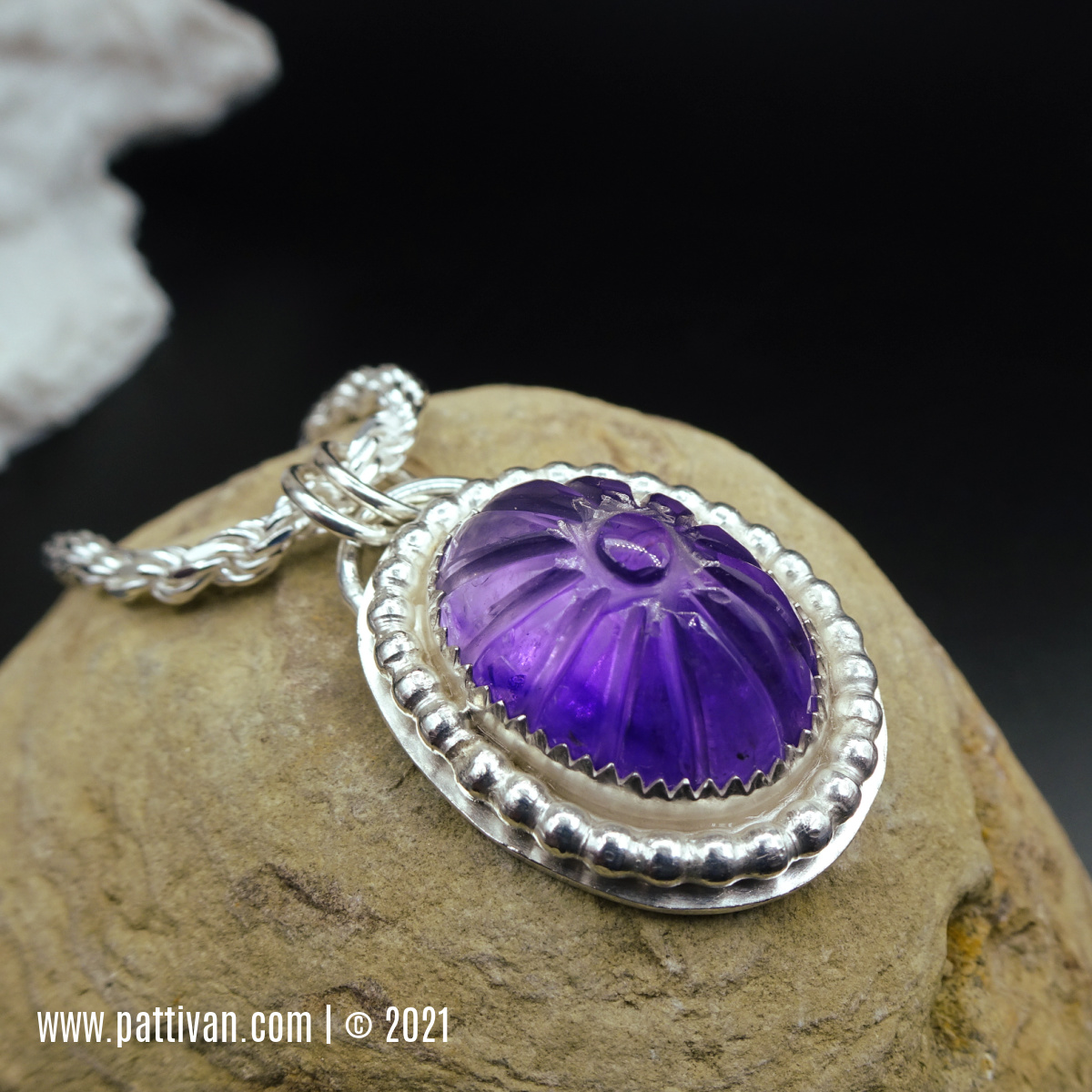 I have two more (maybe three) hand carved gemstones that I believe would be perfect for a prong setting. - Citrine and Aquamarine.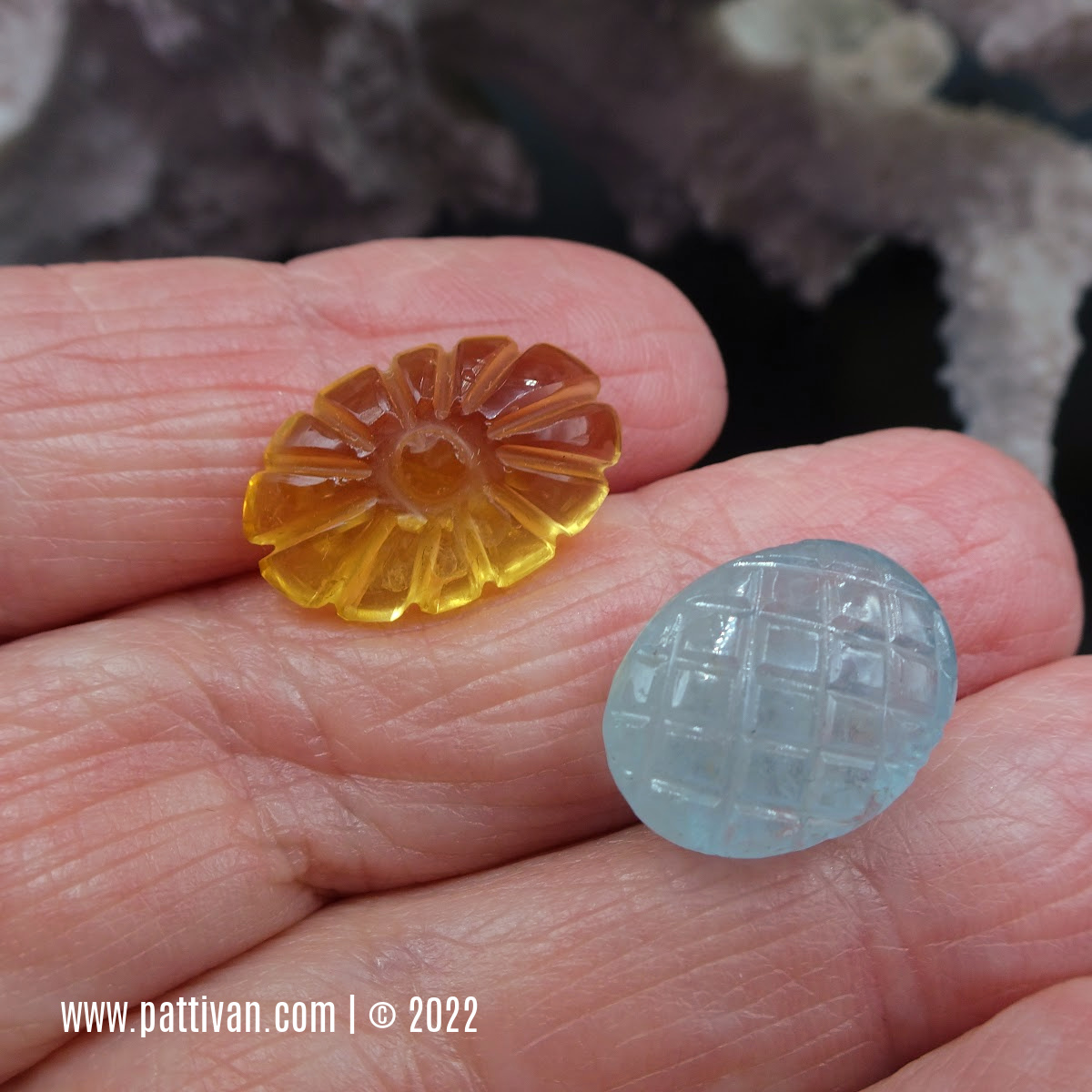 The back of the citrine is somewhat rounded and not completey flat, so that is another advantage to a potential prong setting. I am not normally a "yellow" person...but show me Citrine and I instantly melt!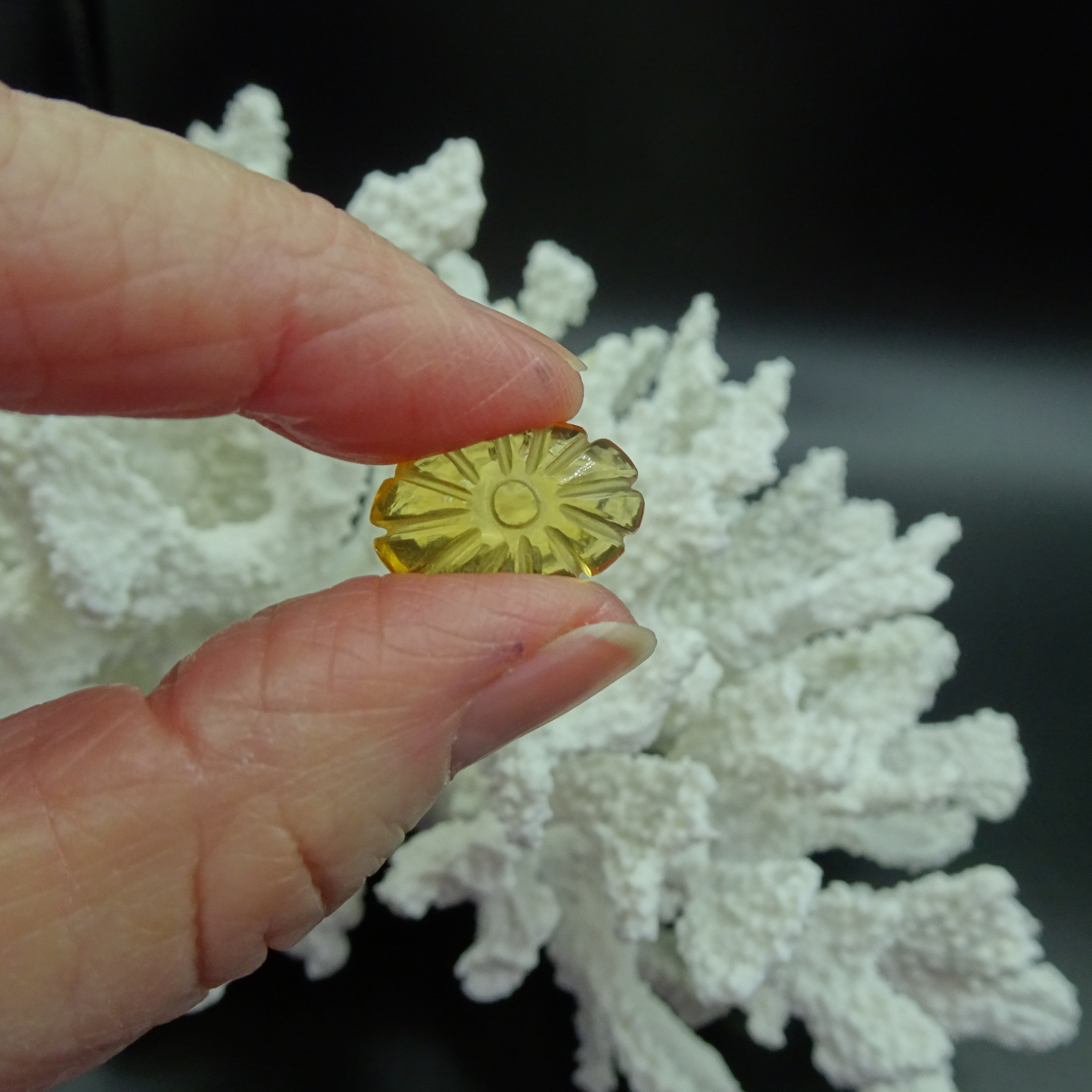 The Aquamarine is really special - the hand carved design is different on each side of the stone.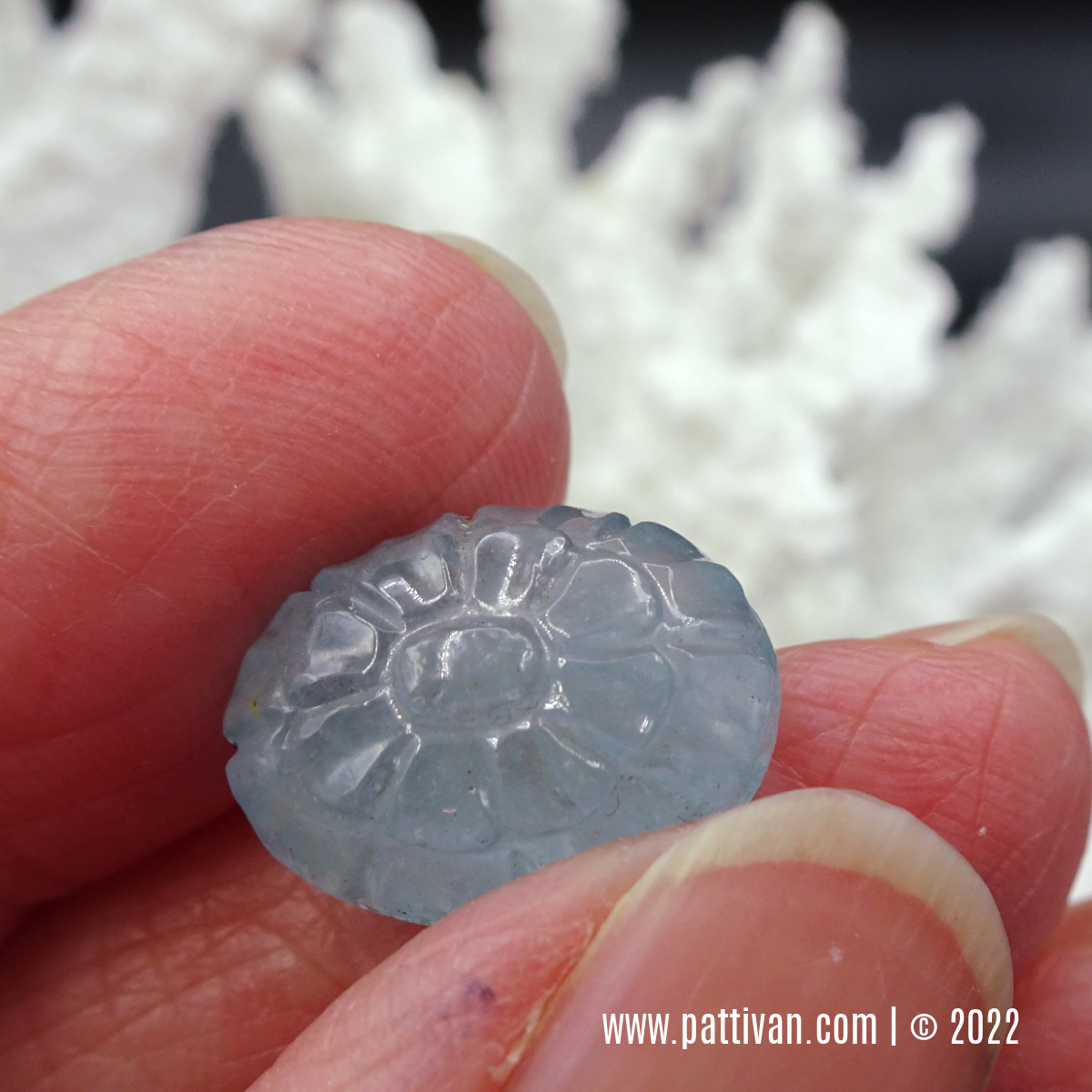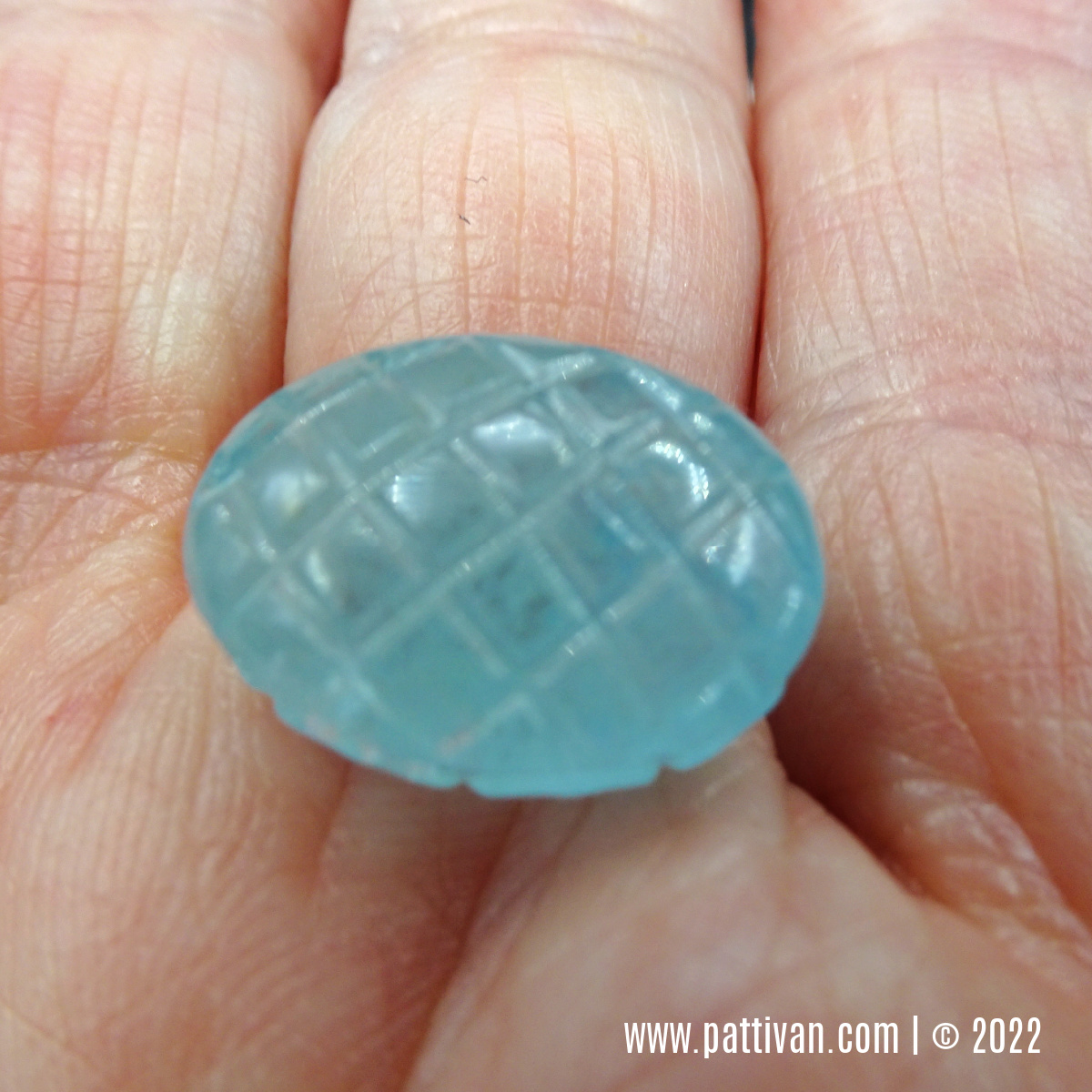 Interestingly, there is also an indentation carved all the way around the center of the aquamarine - a benefit if this stone were wire wrapped. Not the best picture, below, but I am not sure if this will impede whatever design I may come up with.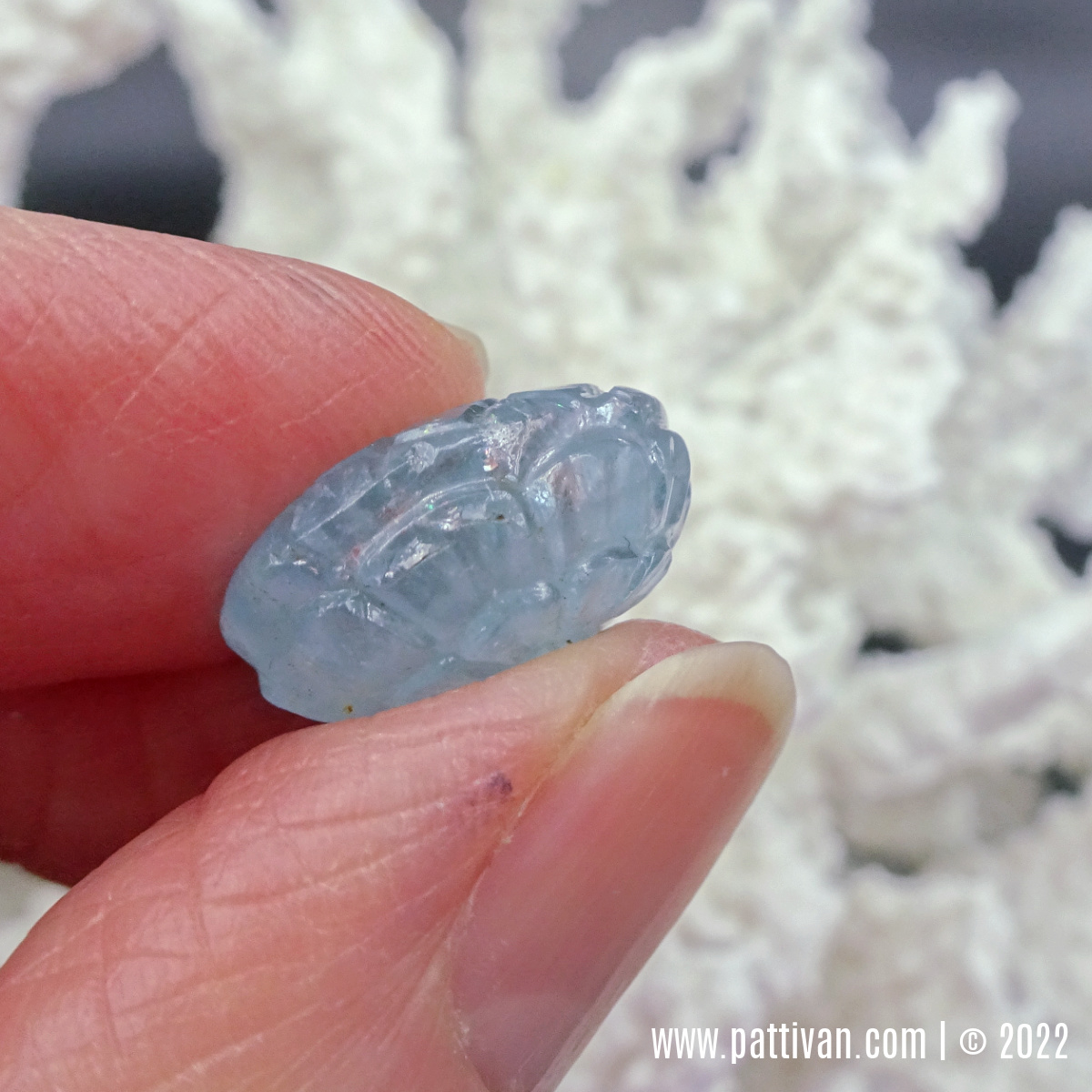 These last wo carved stones may just be the kick in the pants/inspiration I need to get creative for 2022.
However, I also played around with some pearls. I purchased several sets of so-called half drilled pearls eons and eons ago. I call them so-called half-drilled pearls because the drilled hole in the pearl was so slender...a thin sewing needle would not even fit! So, I finally got up the nerve to re-drill the holes so I could finally put these pearls to use. Why did I wait so long to do that??!! These pearls finally found a home in a pair of earrings.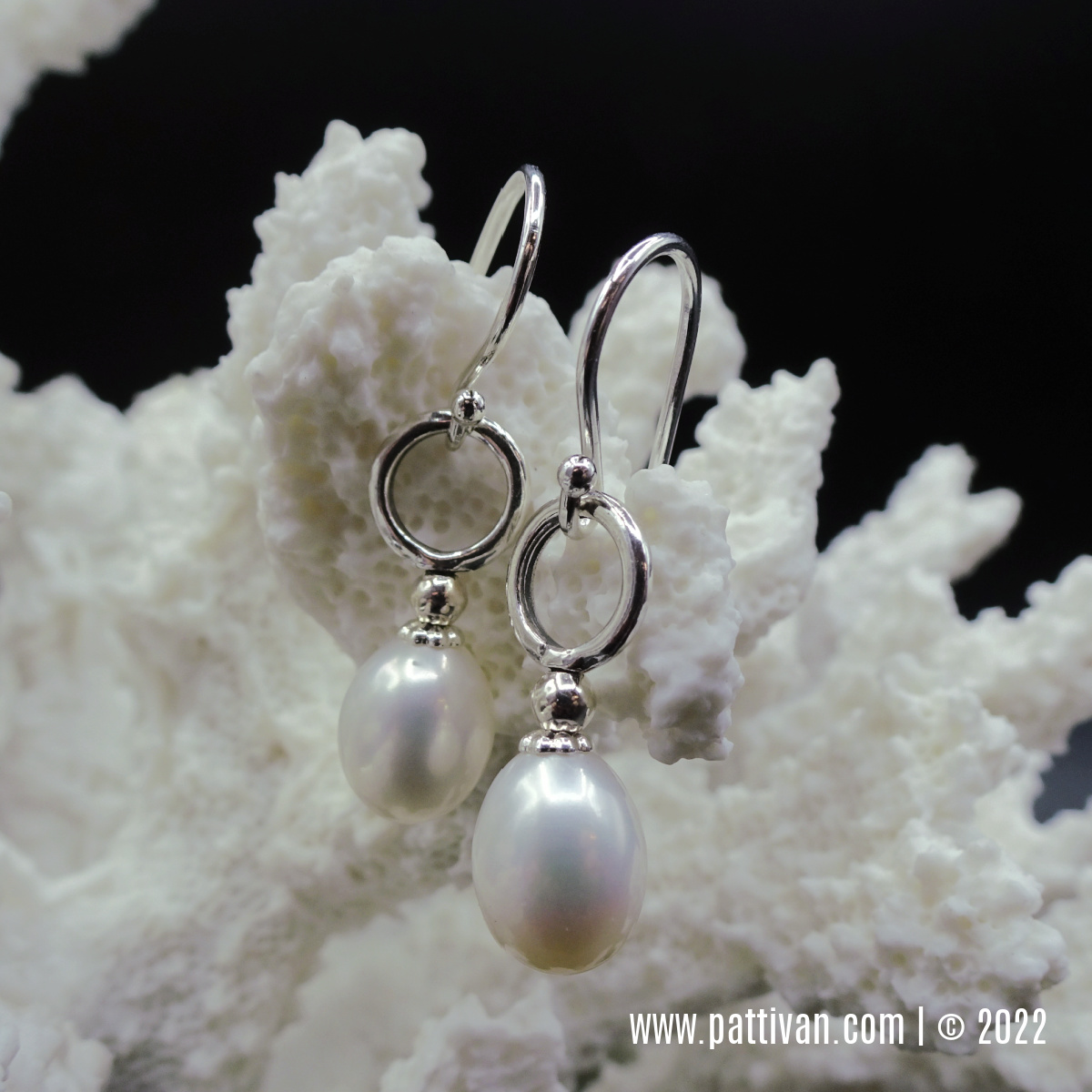 If you stare long enough at the pearls, you see a rainbow of colors in that nacre! These are perfect for everyday (I am talking sweats for me!) or the extremely rare occasion these days where a bit dressier attire is required! They are available here.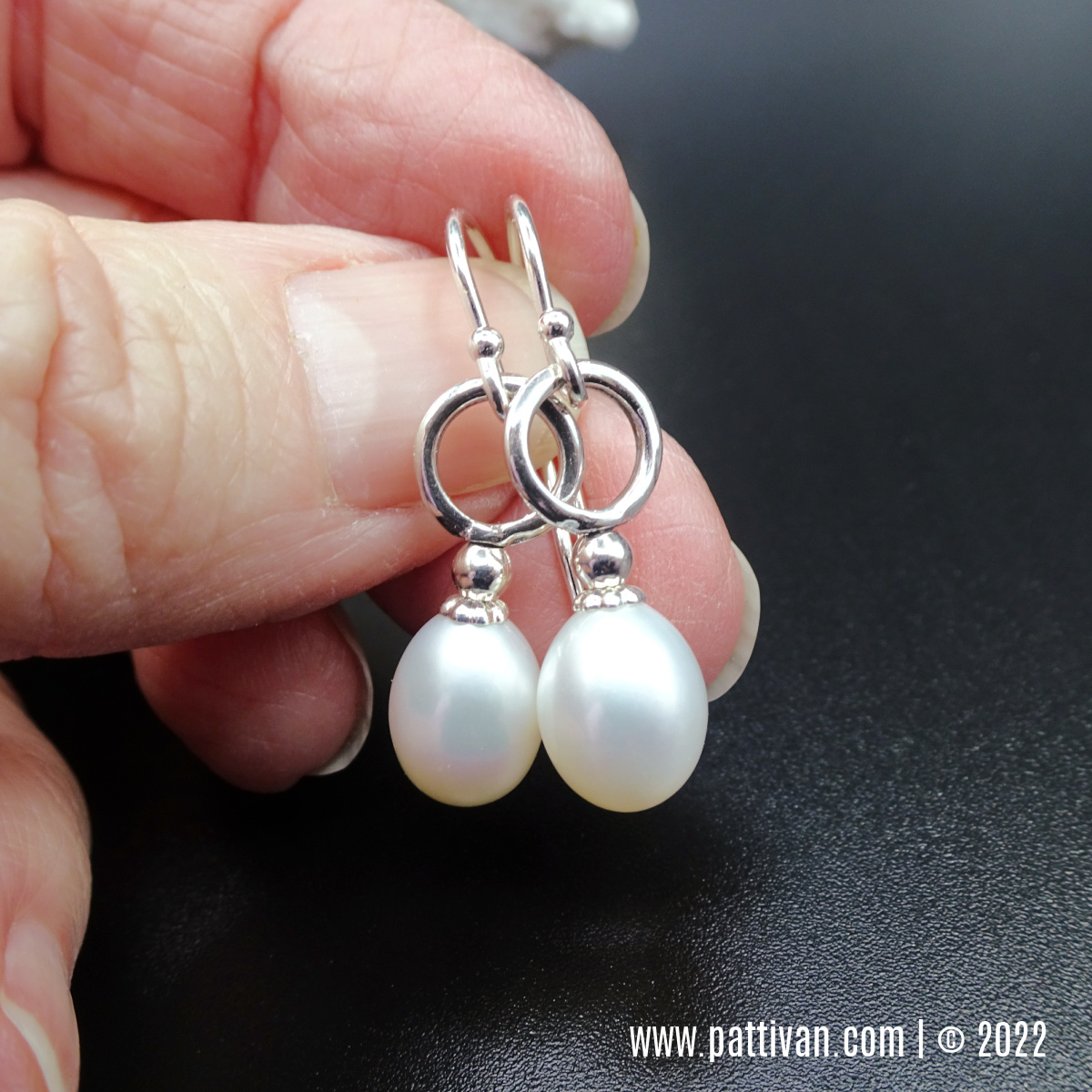 Between the hand carved gemstones, and the two pair (three??) of half drilled pearls (waiting to be redrilled of course), I at least have inspiration for the next few projects. It's a start!
I hope 2022 is going well for all of you. Thanks for stopping by and taking the time to read!
xo
Patti