A Bump in the Road...and yet another Giveaway!
For the past 30 months (if I have done my math correctly), I have gone NO WHERE without wearing a mask. I keep hand sanitizer in my car and have not stopped cleaning my hands upon entering AND leaving. My mother and I STILL wear masks in church, though the number of people wearing them is dwindling fast. I am double Vaxxed and double boosted - even though all 4 shots made me so ill for two days. I am not Political in any way shape or form --- I think all politicians are bought. So, I don't think COVID is a "conspiracy". It's just a disease that I never wanted to get, nor give to my asthmatic spouse, or my 87 year old mother.
Last Tuesday, I let a contractor in my home - he was in and out all day. I was not even that close to him. But neither of us wore masks. On his way home, he texted and said he just tested positive for COVID.
Great. I could not believe I let my guard down - there is no such thing as "safe", in my eyes. Pissed in an understatement - though I am not pissed at anyone in particular.
I am on Day 4 of COVID. So far, everyone else in the house is fine. I feel blessed I can quarantine in my basement (and guest room) - not everyone has that luxury. I feel a tiny bit better at 6:00 PM today than I did when I woke up this morning. I have never once had a fever, aches and pains, chills, problems breathing, fatigue, yadda yadda --- just the most intense headache I have ever had for two days, a sore throat, and the worst congestion known to man (I don't exaggerate on that pressure from congestion either)! I HIGHLY RECOMMEND Mucinex D (the kind you get from the pharmacy and have to sign over your life to purchase because it contains pseudoephedrine). I believe it is the reason why I feel I am on the upswing tonight and truly see the light at the end of this tunnel that I never wanted to travel through.
I do not dislcose that I have COVID for attention or pity - far from it! I just want people to stay safe and not let your guard down....Suffice it to say no one enters my abode again with wearing a mask.
The Giveaway
Enough of that nonsense! I went back to my roots for this Giveaway! Copper and Sterling Silver - it is truly a match made in heaven! Sweet little hand cut copper rounds - with a nice texture on both sides - accented with just a touch of silver at the top! And when you darken with patina, and polish....just love it!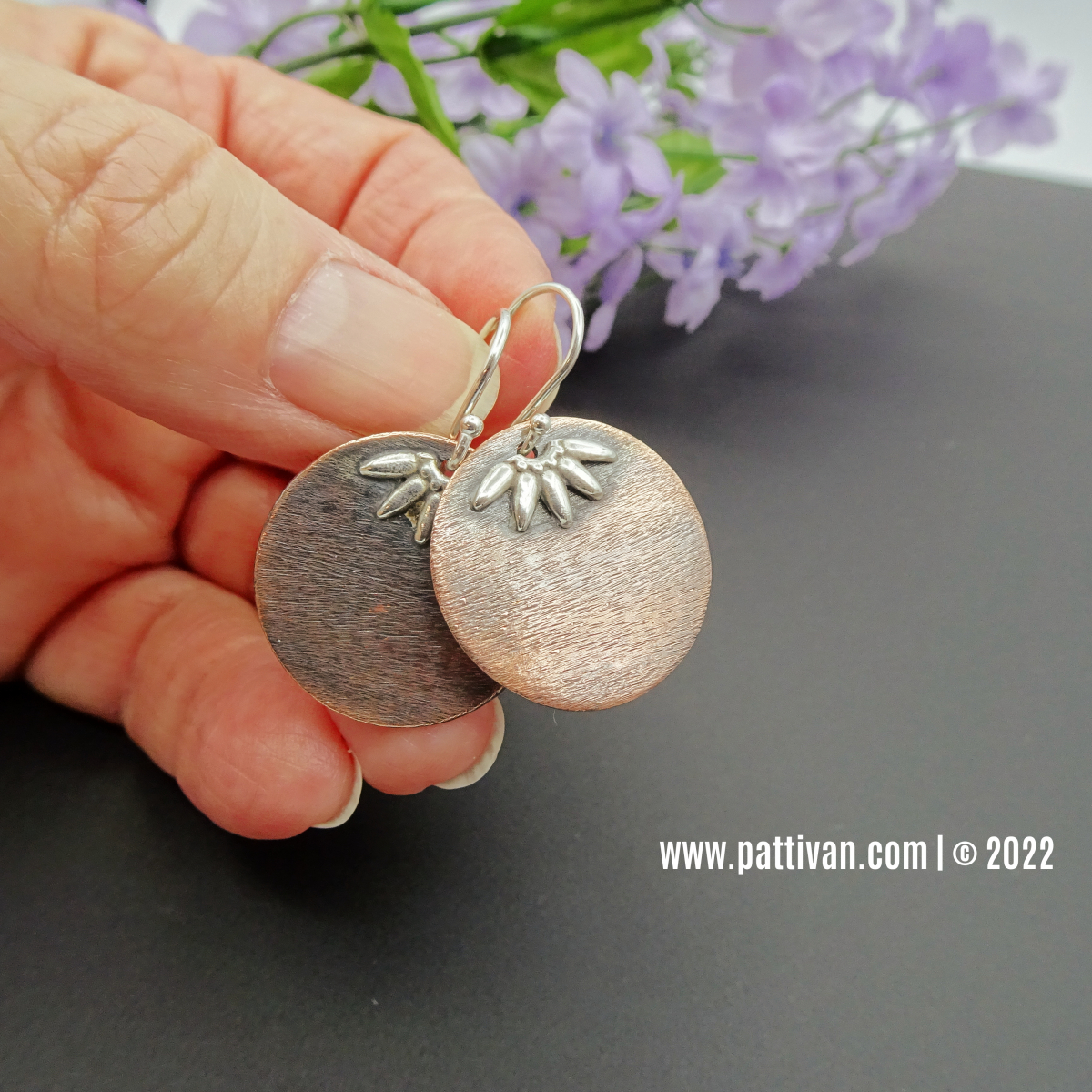 I could not stop with earrings. So, I made three sweet little bangles from 12 gauge copper, gave them a hammered finish, and soldered on a sterling silver coil. Because these are both copper and sterling, they look great in a stack on the arm with other bracelets - regardless of the metals! These are averaged sized bangles (8" round) and will fit almost everyone! If not, they make a wonderful gift!!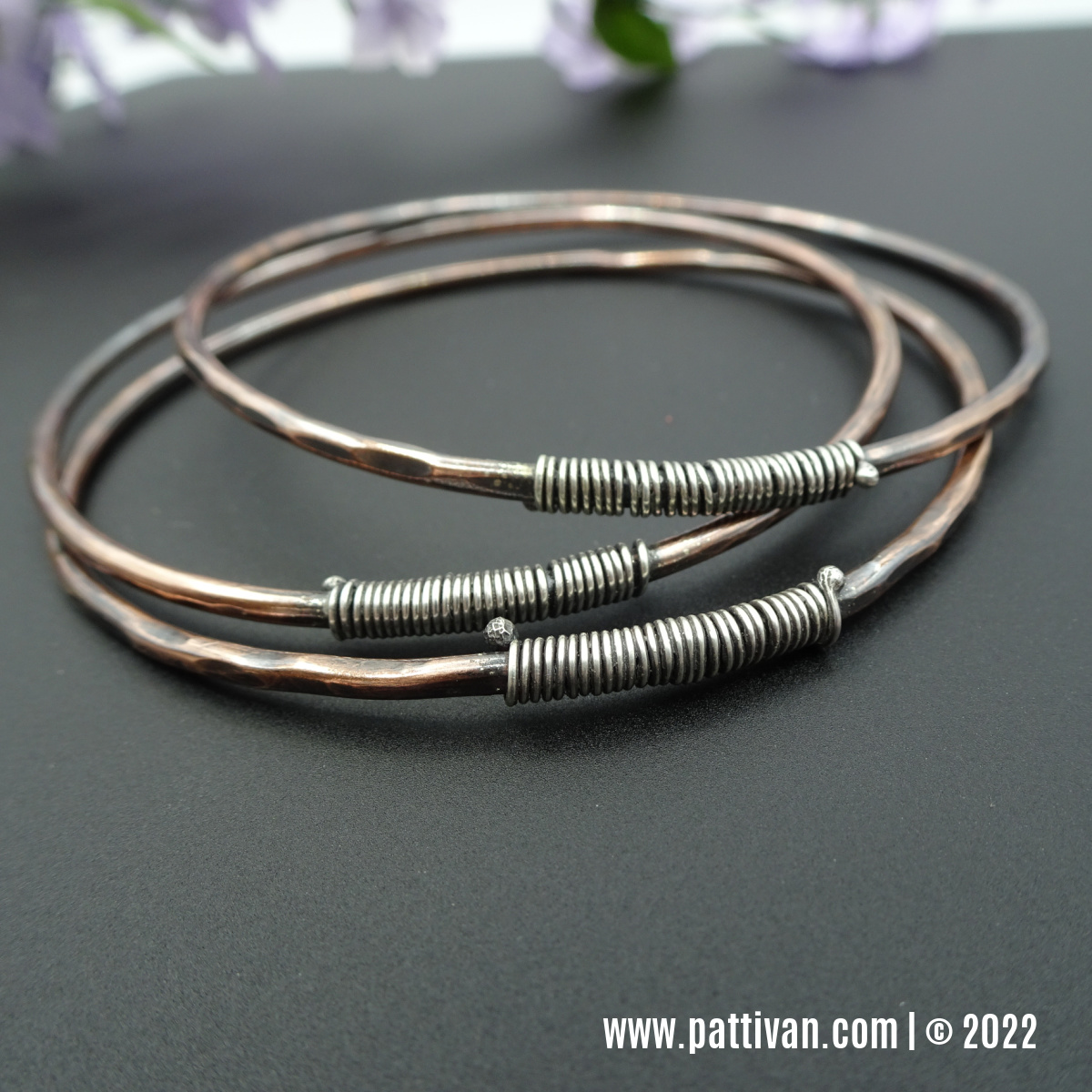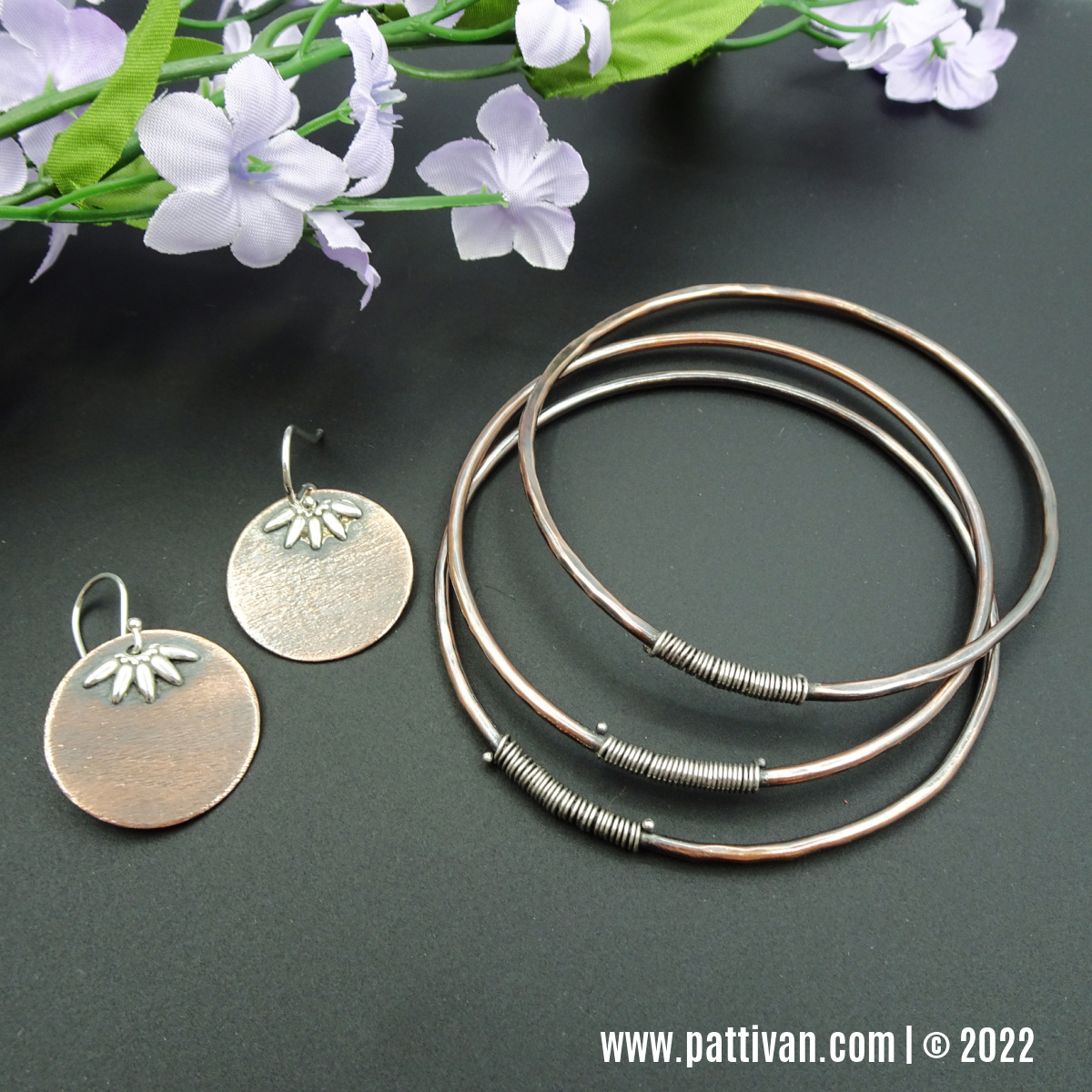 So there you have it - a sweet little pair of earrings and three bangles!
How to Enter to Win
All you have to do to enter to win is leave a comment on this blog post OR leave a comment on the applicable Facebook post! You do not need to leave a comment in both places...
As always, thanks ever so much for stopping by - I relish every comment made throughout my social media posts, and I sincerely thank you for taking the time to leave them!
Most importantly, I wish you all good health!
XO
Patti